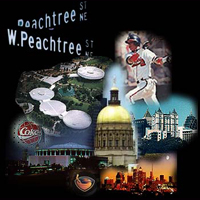 The capital of Georgia and seat of Fulton County, Atlanta is the premier transportation, commercial, and financial center in the Southeast. As of 2007, Atlanta was ranked as the 13th largest metropolitan area in the United States, with a total population of 5,278,904.
Atlanta is located in north central Georgia, in the foothills of the Blue Ridge Mountains. The city's relatively high elevation (1,050 feet above sea level) yields a moderate climate. The average daily temperature for the month of July is a pleasant 78.8 degrees Farenheit.
METRO ATLANTA COUNTY INFORMATION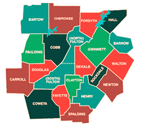 The metro Atlanta area consists of 20 counties. Each has it's own unique attributes and places of interest. The links below will provide you with business directories, historical information, facts and county government contact information for each county.
We continue to develop our new online content and we invite you to browse our thousands of business listings. No matter what you are looking for, you will find a host of helpful information on these pages.
Atlanta Guidebook offers: Atlanta Business Directory Atlanta Real Estate Atlanta Biography Atlanta Arts and Culture Atlanta Entertainment Atlanta Area Attractions Atlanta Sports Teams Atlanta Hotels & Atlanta Lodging Atlanta Transportation Atlanta Media Outlets Atlanta Government Links Atlanta School Systems Barrow County Business Directory Bartow County Business Directory Carroll County Business Directory Cherokee County Real Estate Clayton County Real Estate Cobb County Real Estate Coweta County Government Phone Numbers DeKalb County Government Phone Numbers Douglas County Government Phone Numbers Fayette County Government Phone Numbers Forsyth County Government Phone Numbers Fulton County Business Directory Gwinnett County Business Directory Hall County Business Directory Henry County Business Directory Newton County Real Estate Paulding County Real Estate Rockdale County Real Estate Spalding County Real Estate Walton County Real Estate